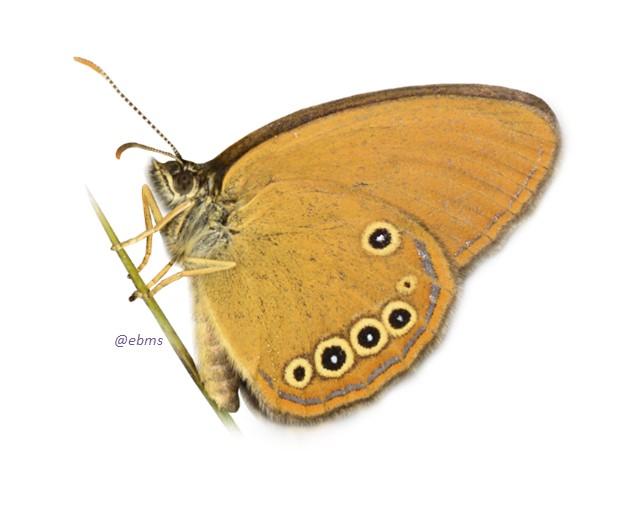 Butterfly monitoring is vital for assessing butterfly population trends and to understand the causes of change. Over several decades and in many countries, butterflies have been monitored regularly and has produced many insights to support their conservation.
To support further development of butterfly monitoring, we have produced the following guide.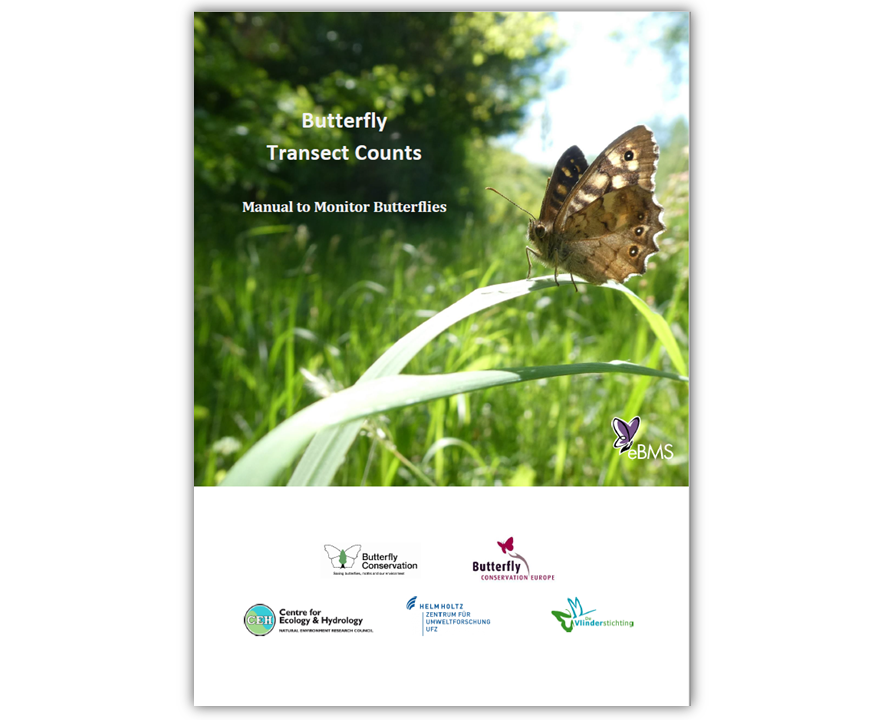 Manual for Butterfly Transect Counts
Transect counts are the main method used in the European Butterfly Monitoring Schemes.  You can download the Manual for Butterfly Transect Count to learn how to use this method. In this Manual you will find useful information about monitoring butterflies with the transects including: how to select a place to monitor, where to setup your transect route, which simple rules to follow for a transect visit and how to submit your records. 
This Manual has been adapted for the following languages:
          - Polish (a Manual adaptation for Poland)
          - Spanish 
          - Italian 
BUTTERFLY IDENTIFICATION
Basic Knowledge 
- Discovering the Butterfly World
Do you need to start from the beginning? What is the difference between butterflies and moths? How can I start identifying butterfly species? In this simple PDF is explained the basic knowledge to start with Butterfly Identification, discovering the different families of butterflies and how to recognise the important characteristics. 
Field Guides for butterfly Identification
The Field Guides of the ABLE project want to be useful to identify butterflies in the field in an easy and simple way. The butterfly species are organised by families and genus and there are symbols identifying useful characteristics to identify butterflies species easily.
We selected the most common species per region reducing the number of species in each Field Guide. This useful material will help volunteers and people involve in butterfly monitoring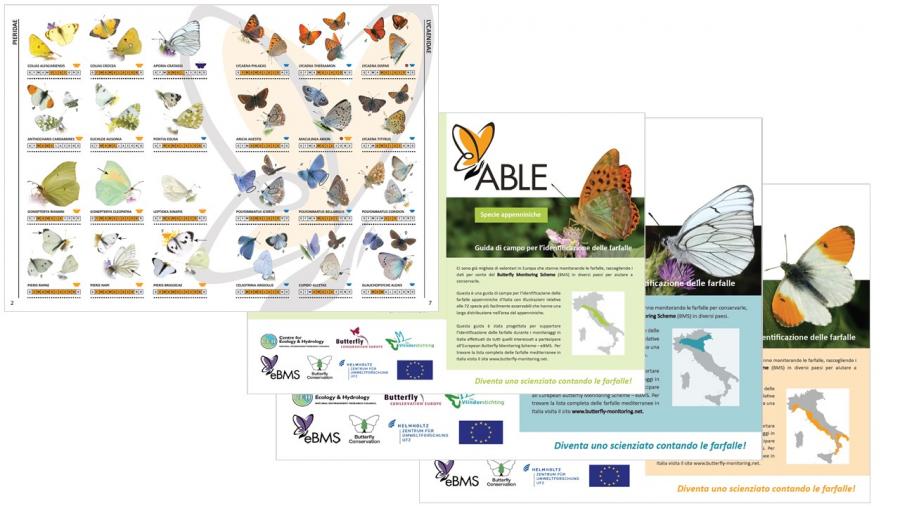 Italy - per regions
Many countries in Europe are very rich in butterfly species and identifying butterflies is a real challenge. In Italy, there are around 290 species and the lack of identification guides was a problem. Together with the Italian Butterfly Group we divided Italy into climatic regions and selected the 72 most common species in each climatic area. We eventually produced 4 different Field Guides from specific regions: Padana plain, Mediterranean area, Apennines and Mediterranean Islands.
You can download the guides from here and print them directly.
*these field guides are in the Italian language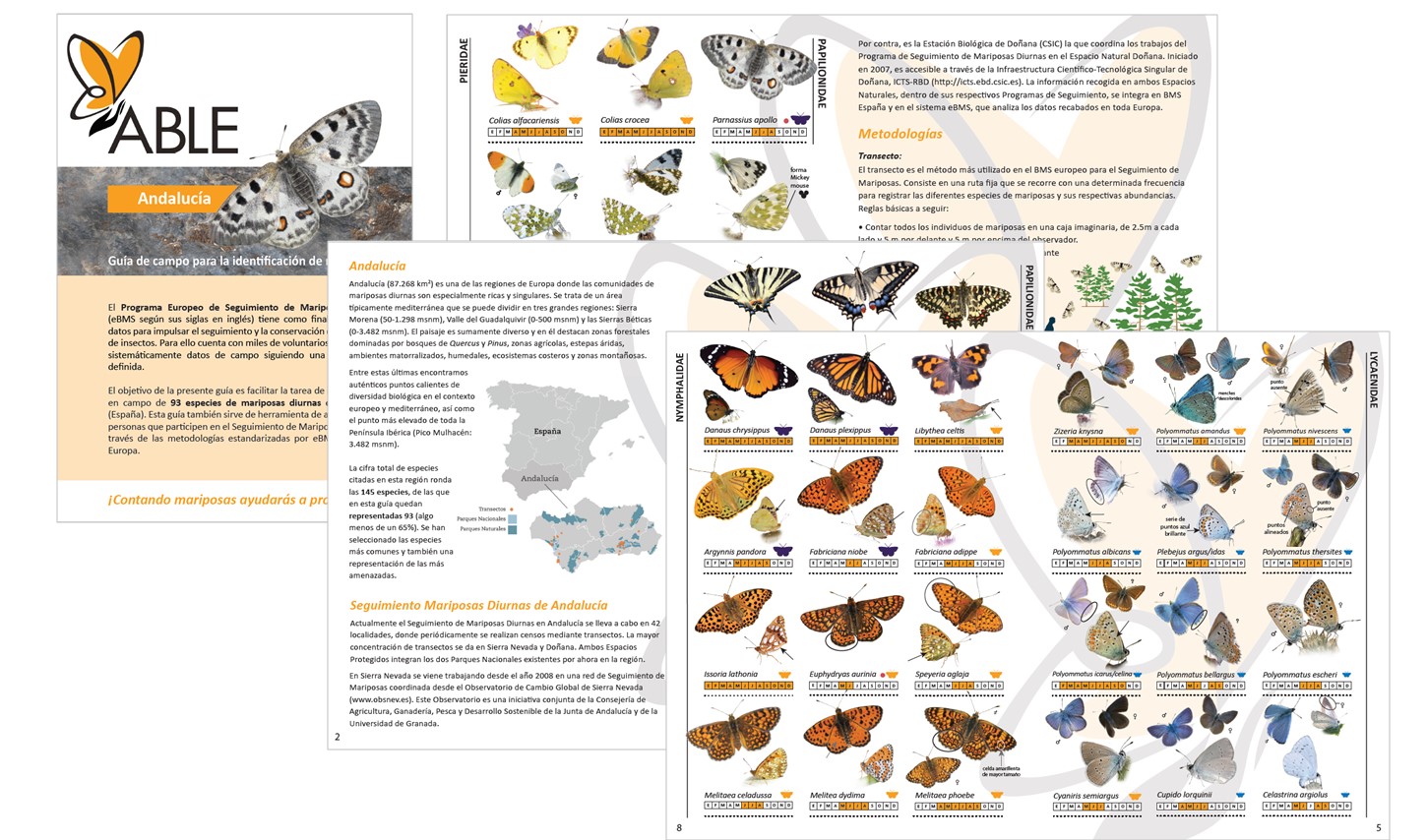 Field Guide Andalucia - Spain
Andalusia is one of the regions in Europe with a particularly rich and singular butterfly community. It is a Mediterranean area with an African influence and with peculiar endemisms.
This Field Guide includes 93 of the most common butterfly species in Andalusia in just 12 pages. This Guide aims to be useful by reducing the number of butterflies in an area as rich and diverse as Andalusia. 
You can download the guide in pdf in various formats: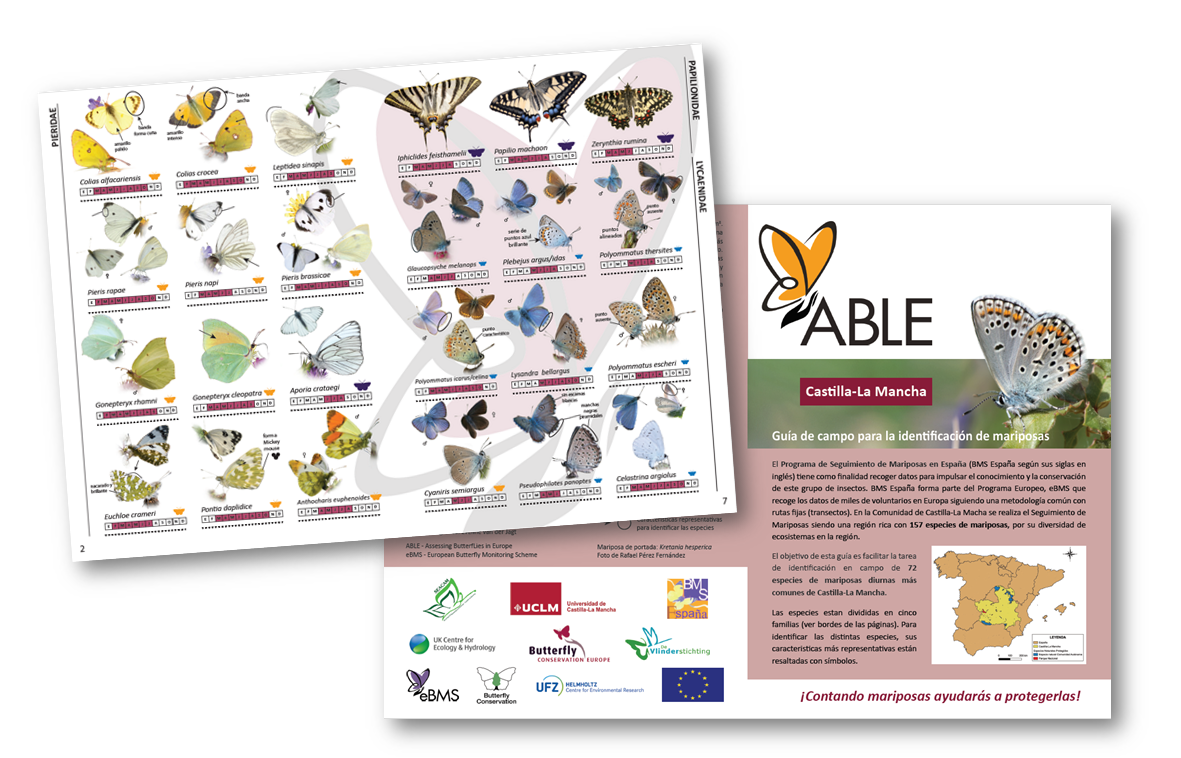 Field Guide Castilla-La Mancha - Spain
Castilla-La Mancha is a region of the peninsular center of Spain with a great diversity of ecosystems: mountain ranges, wetlands, river valleys good for the diversity of butterflies. It has a big number of butterflies species, with a total of 157 species in the whole region, being the 67,4% of the peninsular total.
You can see the Complete list of butterflies species from Castilla-La Mancha (CLM) in this pdf. 
You can download the CLM Field Guide guide in pdf format with the 72 most common butterfly species in CLM in 8 pages.

Field Guide Slovenia
Slovenian Butterflies 1 is a national Field Guide showing pictures to identify 100 butterfly species that occur more frequently in diverse ecosystems of Slovenia. 
This easy and direct Field Guide will help volunteers in butterfly identification and it provides the link to the Second Field Guide, Slovenian Butterflies 2 (in process), with species link between more difficult and similar species. 
You can download the Field Guide Slovenia 1  in pdf directly to your device or print it directly (select the booklet option in the printer):

Field Guide Cyprus
A field guide to identify 48 of the most common butterfly species in Cyprus. This Guide aims to be useful for identifying butterflies in the field in an easy and simple way. Butterflies are divided by families, present symbols to mark specific characteristics with which to identify them and with information about ease to see them. Also, this Guide includes an explanation of the methodologies to monitor butterflies (transects and 15-min Counts).
You can download the pdf guide Field Guide Cyprus directly to your device or print it directly (select the booklet option in the printer).
How to print the Field Guides: 
If you select the pdf with 4 pages which you can print in two sheets for both sides. The order of the pages are organised to print them directly. When you have the two sheets printed, just fold the sheets for the middle and organise them following the number of the pages. 
If you select the pdf by individual pages, you can print directly the Field Guide selecting the booklet option in the printer. 
Acknowledgments to Paolo Mazzei, Marco Bonifacino, Raniero Panfili y Daniel Morel (www.leps.it); Javier Olivares, Jose Miguel Barea, Félix Loarte García, Juan Pablo Cancela, Mariano Vindel, José Rodrigo Dapena, Rafael Pérez Fernández, Christodoulos Makris, Christos Zoumides, Hasan Bağlar, Kelebek Gözlemi, Akturk Pilanci, Elli Tzirkalli, Luka Šturm, dr. Rudi Verovnik, Barbara Zakšek, Primož Glogovčan, Nika Kogovšek; Izabella Dziekanska, Marcin Sielezniew, Albert Vliegenthart and Chris van Swaay for providing pictures for the creation of the Field Guides in the ABLE project. Also, to the designer that created the different butterfly shapes from pictures, Eveline van der Jagt and edition Cristina G. Sevilleja.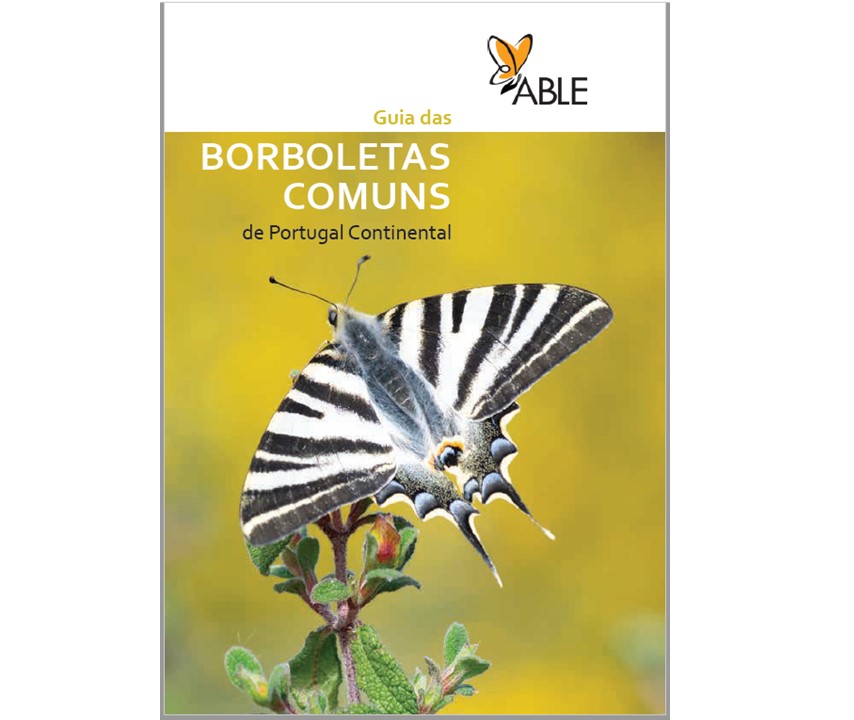 Booklet Common Species Portugal Continental
This guide illustrates 60 common butterfly species in Portugal Continental and it is a great help for those just beginning to identify butterflies and want to participate in the Butterfly Census of Portugal. This booklet was produced with the ABLE project and with the help of Tagis - Centro de Conservação das Borboletas de Portugal
        Enjoy the Identification Field Guide!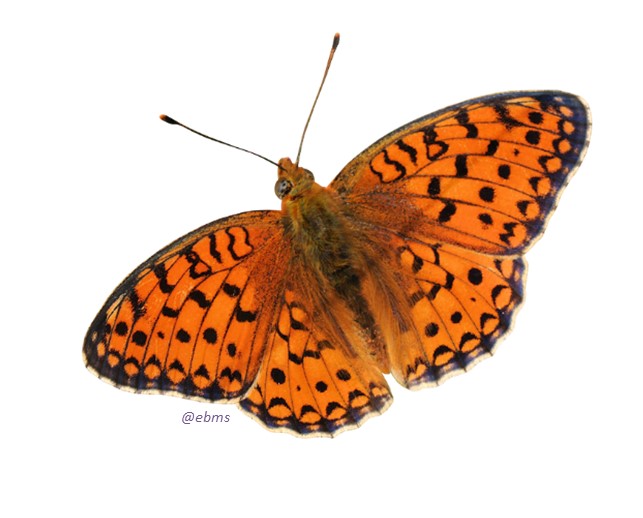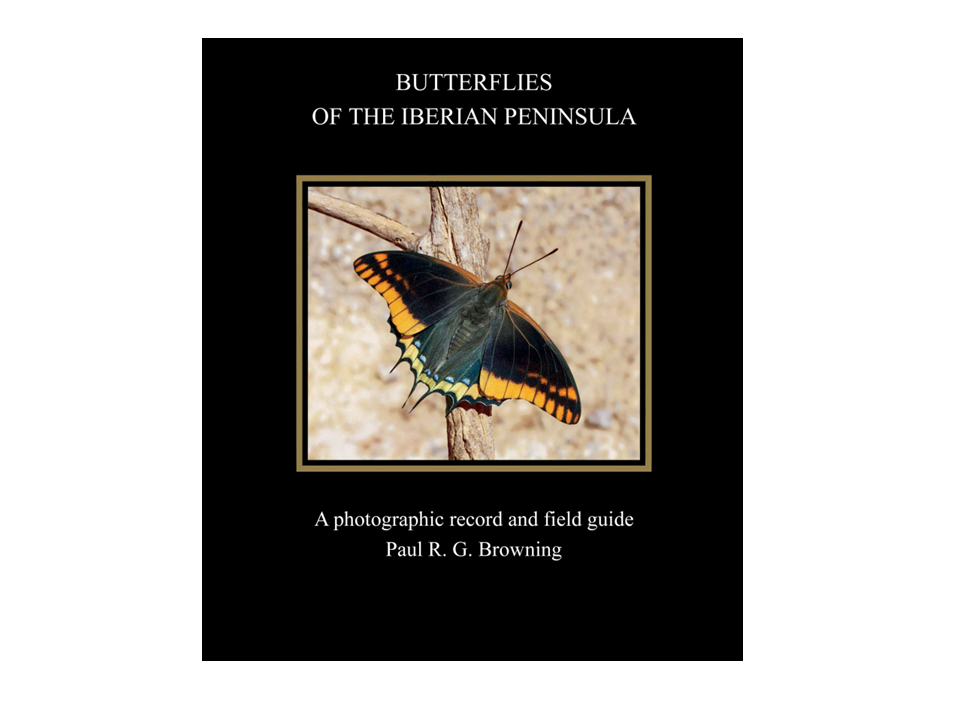 Butterfly Identification Guide from the European Butterfly Group 
A Photographic Guide - Butterflies of Central Europe & Britain by Peter Gergely
This Field Guide contains information to identify 269 butterfly species occurring in Britain, Western and Central Europe. With detailed pictures of identification characteristics and precise pointing marks, this Guide will help you to identify difficult and similar species.
Author Peter Gergely. A hardcopy can be bought at the Dutch Butterfly Conservation.
Butterflies of Central Europe & Britain. pdf
eBMS Leaflet- Information
Here you can download an eBMS leaflet explaining the network together with the project ABLE for promoting butterfly monitoring in Europe. You can find this leaflet in several languages:
- Greek
- Turkish
- Spanish
- Italian
**** If you want to produce similar materials in your country, help us in the translation or have other suggestions, please contact us ebms@ceh.ac.uk