Record your butterfly observations in the eBMS App!

This Butterfly Counts App  (eBMS) enables you to contribute to butterfly conservation by providing important information on where different species occur and the abundances in different places across Europe. Contribute with your counts of butterfly species alongside accurate location information, added via a dynamic map or via GPS acquired route information. You can add photos to support your observations.
This free resource makes it easy to keep track of what you see, while making your data openly available for scientific research, education and conservation.

   What options does the application give?

      - Timed Counts: 15 minute counts wherever and whenever you want
      - Make visits to your BMS transects directly with the app (available soon)
      - Small species identification guide with photos
 
Guide to the eBMS mobile application – ButterflyCount
This is a guide to using the eBMS mobile application for timed counts of butterflies.  The app can be used at any time in any location.  The app works offline, although upload of sightings requires a data connection (i.e. wifi of 3/4/5G coverage).  Please follow these steps to get full use of the app.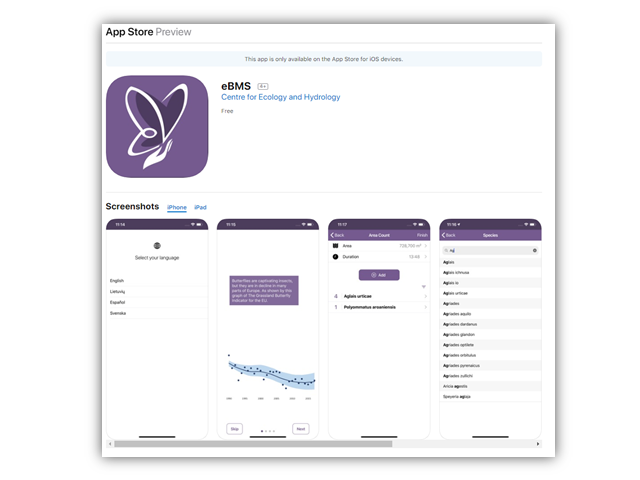 Step 1.  Install the app
For Apple devices (iPhones, iPads) - https://apps.apple.com/ie/app/ebms/id1461711373
For Android devices - https://play.google.com/store/apps/details?id=uk.ac.ceh.ebms&hl=en_GB
Or search for 'eBMS' via the App store.
Step 2. Set your language and country
Choose your language and country.  This will give you the app in your preferred language. If you want to do butterfly counts in other countries and see the characteristic species on the guide, you should change the country. You can change it whenever you want.
If you would like to contribute additional translations, please contact ebms@ceh.ac.uk for details on how to get involved. After you've then clicked through the welcome screens, you are ready to get started.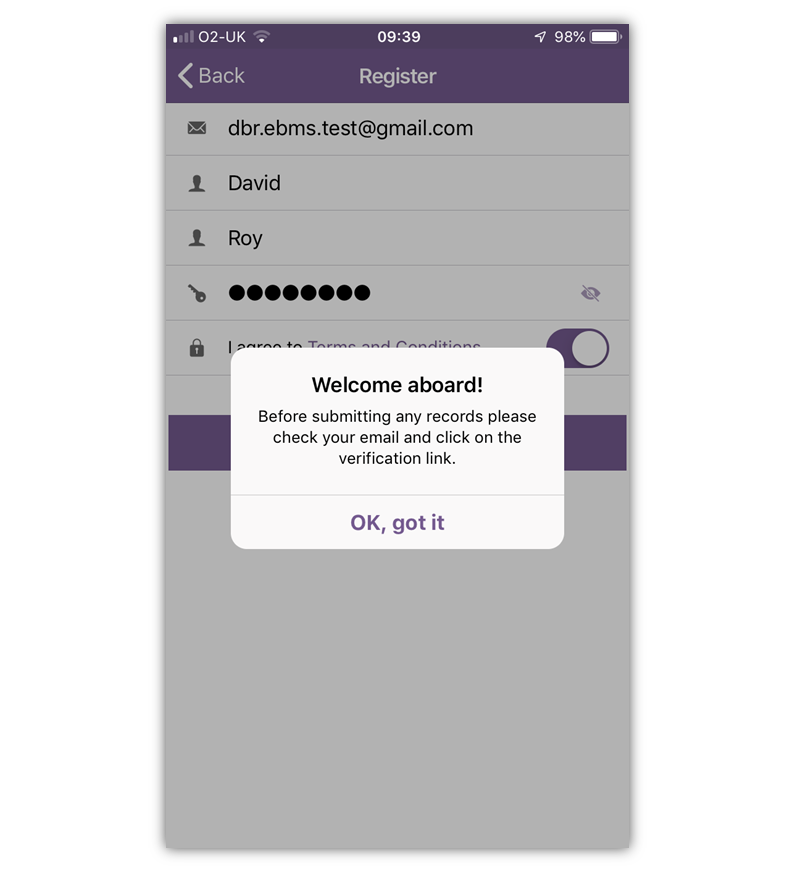 Step 3.  Register a user account, or login to the eBMS system (www.butterfly-monitoring.net)
This step is so you can keep track of your own records by submitting them to our database that keeps your data secure and available for you to access at any time.
If you already have an account (e.g. for transect recording), you can log in using the same details.
If you need to register, follow the instructions on the app.
               - Fill out your email, name and password
               - Read and agree the Terms and Conditions
You will need a data connection (3/4/5G or Wifi) for the registration step, but when successful you will see this screen.
Important.  You can use the app straight away but it is important to fully activate your account by clicking on the link that will be sent to the email used for registration.  This step is needed to confirm a valid email and to prevent spam accounts being setup.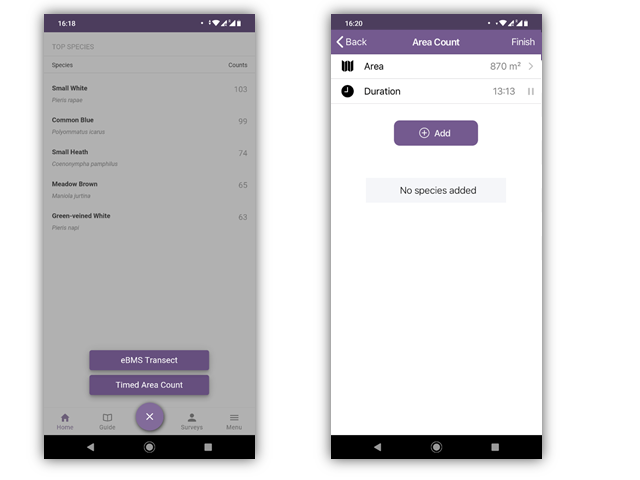 Step 4. Start a Timed

Count
After registration, you can start a Timed Count.  You may be asked to agree to the app accessing your phone location, to record the area searched.  At any other time, click on the (+) button at the bottom-middle of the screen to start a Timed Count (First picture). Now select Timed Count.
A new window will appear and the app will start timing the count (counting down from 15 minutes), but the time can be paused at any time (e.g. to check an identification or take a picture).
The app will use the phone GPS to track your route as you walk to sample butterflies.  You can also edit the map of the area sampled during the timed count or after completion.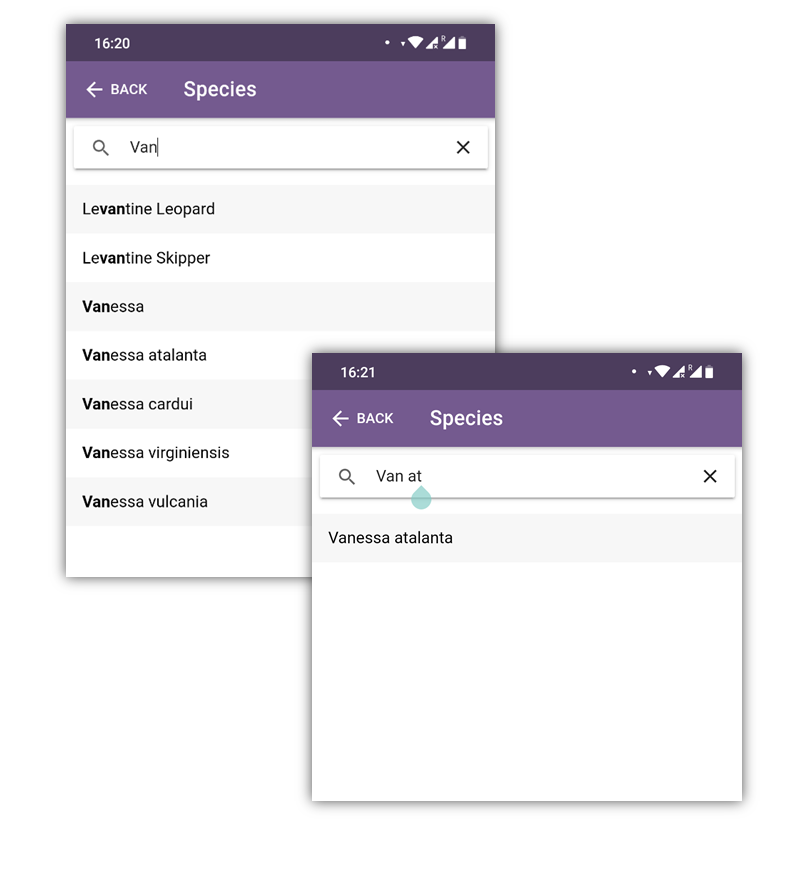 Step 5. Build up a list of butterflies seen and a count for each species
To add butterflies seen, click on the 'Add' button (see screenshot below).
You can search for any butterfly on the European list.  To minimise typing we have setup various shortcuts for finding the right name. Two of the most effective ways of finding species names are:
Typing the 'species' part of the scientific name, e.g. "tithonus" finds Pyronia tithonus
Adding the first two letters of the genus, space, first two letters of the species name (e.g. "po am" quickly narrows the list to Polyommatus amandus)
As you type, a suggested list appears and you can select the right species.  Add additional species in the same way.  If a species has already been added to your list it will not appear in the search list.
Common names are available in English and Swedish.  If you would like to add common names in other languages, please contact ebms@ceh.ac.uk to discuss.
To increase the count of individuals seen of each species, click on the number to the left of the species name.  Each tap add +1 to the count. 
You can also change the count by clicking on the species name to reach a screen for adding more details.  Here you can also add comments, attach photos (to help confirm identification), change the species name.
As you build up a list of names, you can order the species list alphabetically or by order added to the list (most recent at the top)
Step 6.  Complete your timed count
As you record an areas for 15 minutes, you should build up a list of species and the numbers counted.  As you near the end of the time period, the timer will change colour (amber with 3 minutes remaining, red with 1 minute left) and then finish with the message "Time's up".  You can add any final species, counts or additional details and then click on the 'Finish' button on the top right of the screen.
Step 7. Submit your timed counts
You Timed Count will show as 'Pending' which means it is not yet submitted to the central database.   You can review your timed count by clicking on the survey titled showing the date of the survey and number of species.  You can alter any details of the timed count, such as adding additional species (i.e. after confirming identification) and drawing the survey area on a map (i.e. if not using the phone GPS to track your route. 
When you are happy with your Timed Count, click on the 'Upload' button at the top-right of the screen. 
Important:  It is essential that your user account has been activated prior to upload.  You should have received an email link on registration.  Please contact ebms@ceh.ac.uk if you experience any difficulties with this.
Once uploaded the survey can no longer be edited within the app, although further edits can be made via the eBMS website.  We strongly recommend uploading your timed counts as soon as possible as your sightings are more secure within the central database that is regularly backed up; phone storage can be unreliable.
Step 8.  Review your sightings via the eBMS website
Once your Timed Counts have been uploaded, you can view them on the eBMS website.  To view your own sightings you first need to log in at https://butterfly-monitoring.net/user/login, using the same details (email and password) as for the mobile app.  Then visit the [My Data – My app timed counts] via the menus or going directly to the page via this link: https://www.butterfly-monitoring.net/elastic/my-records.  The page allows you to view and edit your Timed Counts and download your data in a spreadsheet format.