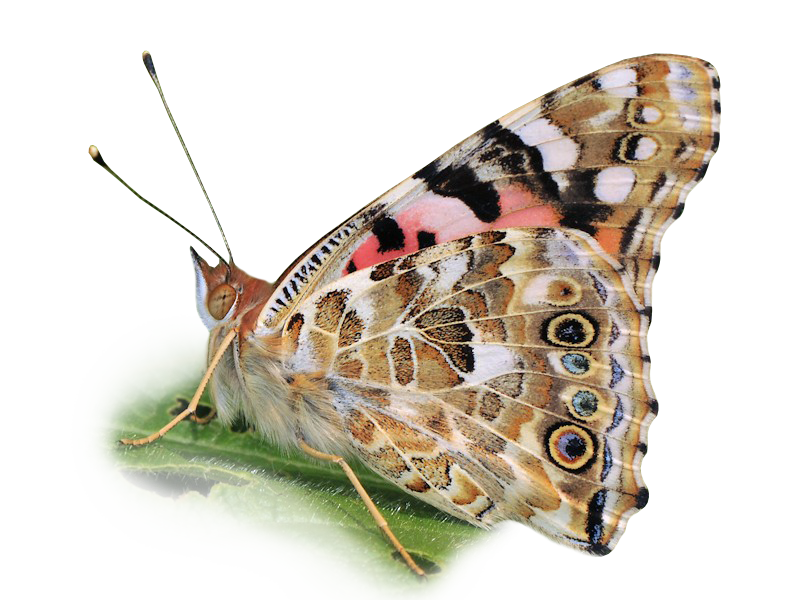 The ButterflyCount app has implemented a specific survey in order to track the Painted Lady migration in real time, with the possibility of adding useful information for researchers to deepen the understanding of its migratory ecology. 
It is recommended to start this survey whenever you detect Painted Ladies. This is particularly valuable when they are showing migratory behaviour (e.g. directional flights, large concentrations of nectaring painted ladies after a migratory flight) or when you find evidence of local breeding (e.g. territorial behaviour by males, egg-laying females, larval nests).
To undertake a 15-minute single species survey for Painted Lady:
If you have '15min Single Species Count' set as your primary survey type (set in the application settings), start the survey with the + button. If you have a different primary survey, long-press the + button and select the '15min Single Species Count'. Enter the species name as Painted Lady or Vanessa cardui. Check or enter the weather conditions (added automatically from the local weather data when you have a data connection) and then select [Start Count] at the top-right of the screen. The wind direction is particularly useful here as it may relate to migratory behaviour. 
        1. Add the first Painted Lady you see by tapping the [Add] button. To register information about this observation, tap on the record. You'll enter a screen where you can register some details common in a regular 15-min count, but also specific information which is very valuable for the study of the Painted Lady (see below).
        2. Wing condition: this tells us about the age of the butterfly. You can distinguish between fresh (a bright-coloured butterfly recently emerged butterfly from its chrysalis), normal and worn (a tattered butterfly with faded colours. Check the gallery for examples.
        3. Behaviour: it is important to record what the butterfly is doing, which can be separated into 4 main behaviours.
 Migrating: a powerful, straight, directional flight is indicated of active migration. You can also add information on the flying direction and height above the ground of the migrating butterfly.
Nectaring: a butterfly visiting and feeding on a flower. You can add information on the plant's identity (preferably the scientific name) and a photo.
 Mating: very often it is possible to see males of Painted Ladies defending territories in the afternoon, for instance at hilltops and mountain ridges, but also on sunny spots facing W or SW, near trees, and so on. Territorial males often engage in acrobatic battles with other males, and become very visible. Once you select Mating, you can either distinguish between 'hill-topping', 'other territorial defence' or 'mating' (referring to copulation, which is rarely seen in the wild). 
Egg-laying hostplants: you can record information of egg-laying females and differentiate between 4 options: 
Thistles, which include a diversity of plants in the Asteraceae family very commonly used by Painted Ladies as hostplants. 
Mallows, which are one of the preferred hostplants in southern Europe and North Africa
Desert nettle, an important hostplant in arid environments of North Africa and the Canary Islands.
Other plants, where you can specify other hostplants that can also be used (e.g. Borago, Urtica, Filago, etc.)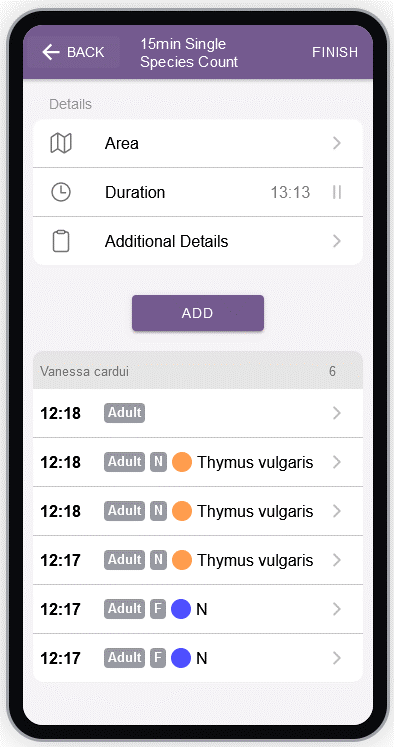 4. If you are not certain about the status and behaviour, you can just record the observation without additional information. Also, other kinds of information not typified here can be added as "comments". 
        5. When adding a second Painted Lady, if it shows similar information to the first, you can just swipe the first one right and then tap the "copy" icon which appears with a blue background colour. For example, whenever you see a group of 5 Painted Ladies nectaring on a patch of thymes, you may add the information for the first individual and then copy it 4 more times. If after some time during the same survey, you see another Painted Lady nectaring on thyme, you can copy it again from the previous individuals, although the new butterfly will be georeferenced with a new coordinate. You can copy any previous sighting in this way.  The latest sighting appears at the top of the list.
        6. Press the Add button to simply add a new Painted Lady which has different characteristics (different wing conditions and behaviour).
Recall that, as with a regular 15-min count, you can also record the immature stages, by selecting egg, larva or pupa instead of adult in the stage field. For the Painted Lady, you can also select larval web when a larva has already gone but there is clear evidence of its recent presence (e.g. the nest structure with frass) in the hostplant.
Example: here there is a 15-min count with 6 Painted Ladies recorded. The first two were fresh individuals migrating north. Then three more butterflies with a normal wing condition were recorded nectaring on thyme. A last butterfly was recorded with no additional information.