European Butterfly Monitoring Scheme - eBMS

Become a volunteer counting butterflies!!
Help us counting butterflies, it will increase the knowledge of butterflies and we could protect them better. There are already thousands of volunteers throughout Europe helping in butterfly conservation.
If you would like to join eBMS and collaborate in the Butterfly Monitoring Scheme you just need to register. Follow this link to the My Data section and you will find a Quick Guide for setting up butterfly monitoring.
- Join one of the biggest citizen science network
- Monitoring butterflies in your area, you will contribute to science
European butterfly records: see all the records submitted to eBMS from many different places around Europe, go to eBMS data -> Explore online data

ButterflyCount app: count butterflies easily with your phone, while doing a transect or 15-minute counts. Download the app and start discovering the species in your area!

eBMS Guidelines: if you want to know how to introduce data of transects, create a transect and show it on graphs you can download the pdf of the eBMS Guidelines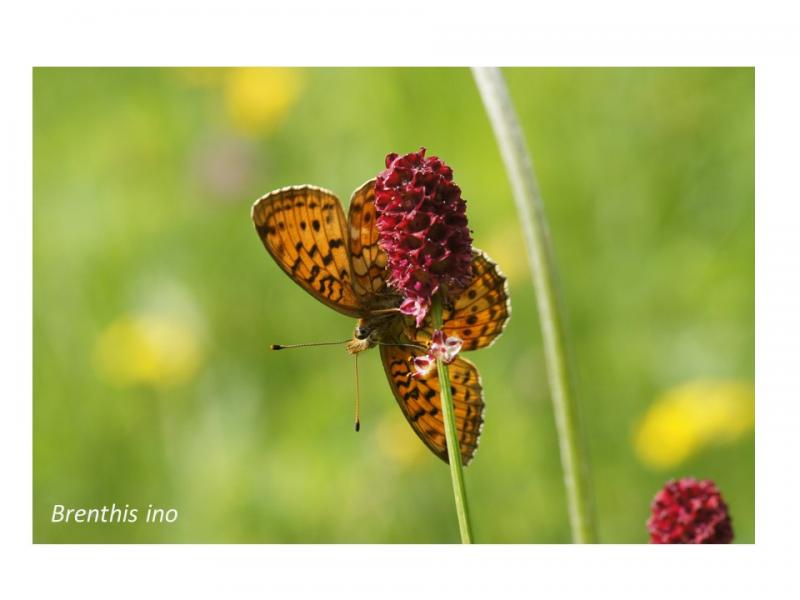 This is the home page of the European Butterfly Monitoring Scheme (eBMS).  As a joint initiative of Butterfly Conservation Europe and the Centre for Ecology & Hydrology, this website is a home for promoting butterfly monitoring schemes across Europe and consists of the following activities:
- A collation of national Butterfly Monitoring Scheme datasets within Europe - the eBMS partnership
- A data system for establishing butterfly monitoring sites in regions currently lacking a national scheme. Click here to access to the list of partners.
- The home for the Assessing ButterfLies in Europe (ABLE) project
-  A place to promote other projects that are affiliated to butterfly monitoring schemes
News of eBMS: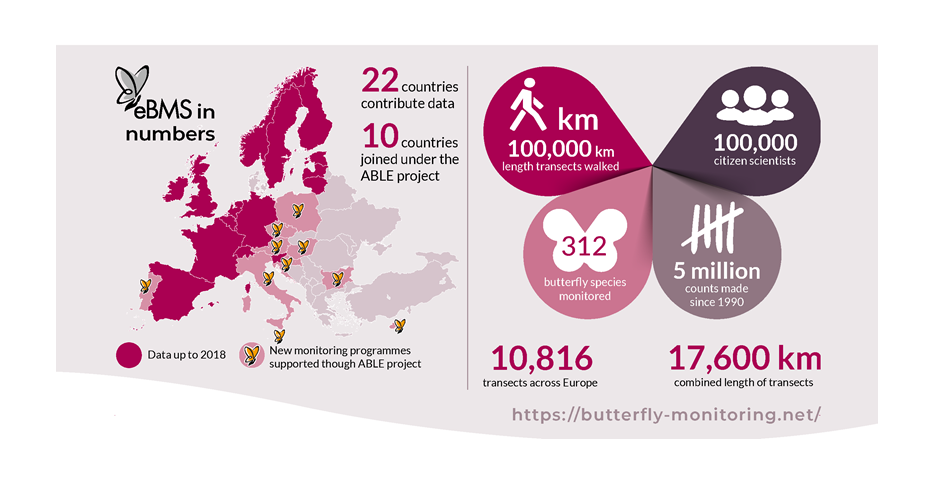 - Final results of the ABLE project
For two years, we have been working in the European Pilot Project ABLE (Assessing ButterfLies in Europe) with incredible success in promoting and improving butterfly monitoring in Europe and producing high-quality Butterfly Indicators and useful tools for volunteers and coordinators.
You can find the results of the ABLE project: final reports, new schemes created, all material, new partners, and more. Go to the ABLE results section to discover more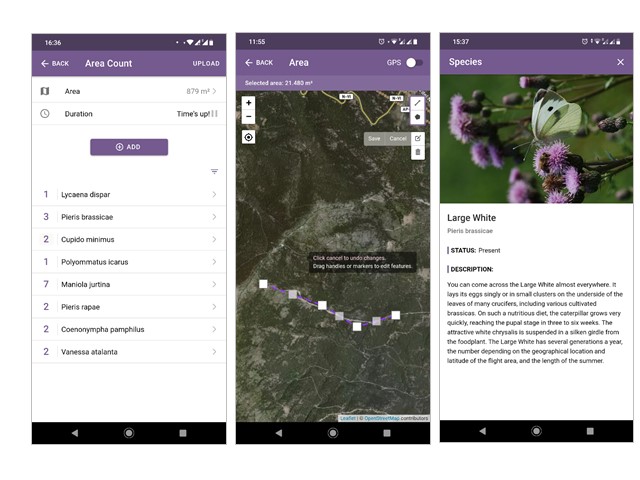 - the eBMS App is ready! 
You can download and use the new multilingual eBMS app, looking for "ButterflyCount" in AppleStore or App Store for Android. 
It was created to do 15-min Count, counting butterflies for 15 minutes anywhere in Europe. The GPS tracks your route, area, or point of your search. You can also draw the recorded area. All transects registered on the eBMS website can be also done with the app! Just download it and log-in with your eBMS account. 
ButterflyCount has Picture Guides to help with butterfly identification offline. The app is translated into more than 10 languages and has the latest full list of the different butterfly species found across Europe – around 500 in total. You can record butterflies wherever you want!
To discover more go to eBMS data -> eBMS mobile application and see the new story in CEH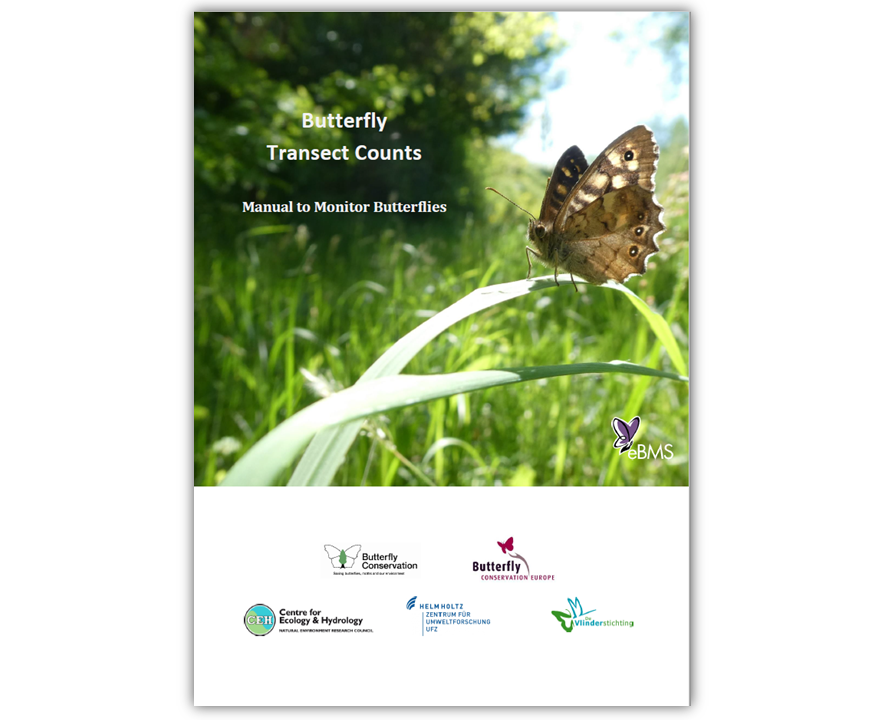 - Manual for Butterfly Transect Counts
A Manual with the information necessary to set up a transect and know the few rules to follow in every visit to the transect. Download the Manual for Butterfly Transect Count to know everything about transects, the method more used in the majority of the Butterfly Monitoring Schemes in Europe. This manual is translated in several languages (Italian, Portuguese, Spanish, Polish...), click on the link to download it.
- Technical Report EU Butterfly Grassland Species 1990 - 2017
We are pleased to inform you that we have updated the EU Butterfly Indicator for Grassland species, 1990-2017.  We produced a technical report to describe the indicator, it represents a major update on previous versions, through the incorporation of more and expanded datasets, together with new analysis techniques. It is the first major output of the Assessing ButterfLies in Europe (ABLE) project. This would not have been possible without the effort of all the collaborators, national schemes and volunteers that provide the data. Our appreciation to all of them. 
The EU Butterfly Grassland Species 1990-2017 indicator is part of the monitoring report on progress towards the SDGs in an EU context — 2019 edition, which can be accessed here.  The grassland butterfly indicator contributes to Goal 15: Life on Land.